06-04-2008, 07:06 PM
Pauline
Diamond Member



Posts: 6,369

Joined: Mar 2007
RE: Moppen topic
Het achterwerk van een boef? Een rovershol
Een matroos met een bril? Een bril-jantje
Ruzie van de directie? Een directiekeet
Een koningin zonder boezem? Een plattelandsvrouw
Een paling onder de tram? Een aalmoes
Het toppunt van luiheid? De kindjes tweedehands kopen
Een meisje in ondertrouw? Een aangetekend stuk
Een baas in een breiwinkel? Een breipatroon
Ruimte onder het bed? Een po-vlakte
Een miljonair op het toilet? Een rijke stinkerd
Hoe vrijen koraaldieren? Tegen de klippen op
Hoe vrijen stekelvarkens? Heel voorzichtig
Het vrijen van ijsberen is? Een koude bedoening
Hoe heet de vader van een worm? Papier
Een begrafenis op reis? Uitzonderlijk
Een aanstaande moeder? Een drama
Een vrouw die een baby heeft? Een expositie
Een pastoor in Duitsland? Een Duitse herder
Het achterwerk van de paus? Een zalig uiteinde
Een kok in een vliegtuig? Een luchtkoker
Een baby van een publieke vrouw? Een bedrijfsongeval
Boeven op een rij? Een rijtuig
Een plasje van de koningin? Jus d'orange
Een garderobejuffrouw? Een klere wijf
Een straatorkest? Een trottoirband
Een pas geboren tweeling? Een dubbele uitsmijter
Sinterklaas met een zaklamp? Een schijnheilige
Een pedicure zonder werk? Een voetzoeker
Een conducteur zonder fluitje? Een conductrice
---
https://www.flickr.com/photos/128088353@N02/
08-31-2008, 01:32 PM
(This post was last modified: 08-31-2008 01:32 PM by Pauline.)
Pauline
Diamond Member



Posts: 6,369

Joined: Mar 2007
RE: Moppen topic
Tikkie...

Bij deze dien ik officieel mijn ontslag is als volwassene.

Ik heb besloten dat ik de verantwoordelijkheden van een 6 jarige weer wil.

Ik wil naar MacDonalds gaan en denken dat het een vier-sterrenrestaurant is.
Ik wil met stokjes over een verse plas varen en havens maken van stenen.
Ik wil weer geloven dat je beter M&Ms kunt hebben dan geld, want die kan je opeten.
Ik wil onder een grote boom liggen en naar de wolken kijken en limonade verkopen op een hete zomerdag.

Ik wil terug naar de tijd dat het leven eenvoudig was; toen je alleen nog maar de kleuren, rekentafels en kinderliedjes kende en dat maakte niet uit,
want je wist niet wat je niet wist en het kon je niet schelen ook.

Je wist alleen hoe je gelukkig moest zijn, want je was zalig onwetend van alle dingen die je bezorgd konden maken of van je stuk konden brengen.

Ik wil geloven dat alles mogelijk is.
Ik wil weer onwetend zijn over hoe ingewikkeld het leven is en weer gelukkig met de kleine dingen.
Ik wil weer simpel kunnen leven.

Ik wil niet dat mijn leven bestaat uit computer crashes, bergen papierwerk, altijd maar weer de touwtjes aan elkaar moeten knopen, rekeningen,
verzekeringen, roddel, ziekte en het verlies van mijn geliefden.

Ik wil geloven in de kracht van een glimlach, knuffels, een aardig woord, waarheid, eerlijkheid, vrede, dromen, verbeelding, de mensen en het maken van sneeuwpoppen.

Dus... hier is mijn pinpas, mijn creditcard en autosleutels en mijn cv.

Ik doe officieel afstand van mijn volwassenheid.

En als je er nog met me over wilt praten, dan moet je me eerst zien te pakken want................

"Tikkie, jij bent hem."
---
https://www.flickr.com/photos/128088353@N02/
09-26-2008, 08:32 PM
Pauline
Diamond Member



Posts: 6,369

Joined: Mar 2007
RE: Moppen topic
Een drukke Ryanair vlucht was geannuleerd.

Een hostess was bezig met het herboeken van een lange rij passagiers. Plotseling duwt een boze passagier zich zijn weg naar haar desk.

Hij gooit zijn ticket op de desk en roept: "Ik MOET op deze vlucht zitten en het MOET eerste klas zijn!!!."
De hostess antwoordt hierop rustig: "Het spijt me meneer, ik zal u met veel plezier helpen, maar ik moet eerst deze mensen helpen. Als u dus achteraan aanschuift dan zal ik u straks met veel plezier helpen."
De passagier was niet onder de indruk. Hij vroeg zeer luid, zodat de andere passagiers hem konden horen : "HEEFT U ER ENIG IDEE VAN WIE IK BEN?!!"

Zonder aarzelen nam de hostess glimlachend haar intercom microfoon : "Mag ik uw aandacht alstublieft," weergalmde haar stem door de volledige vertrekhal, "we hebben een passagier aan Gate 14, die niet weet wie hij is. Wie hem kan helpen om zijn identiteit terug te vinden, gelieve naar Gate 14 te komen!"

Terwijl de mensen in de rij achter begonnen te (glim)lachen, liep de man hoogrood aan, staarde naar de hostess en riep: "FUCK YOU!!!"

Zonder verpinken lachte ze en zei: "Het spijt me, meneer, maar daar moet u OOK voor aanschuiven..."
---
https://www.flickr.com/photos/128088353@N02/
09-26-2008, 08:38 PM
Corry
Proud granny of Julian-Tobias-Phileine



Posts: 24,342

Joined: Mar 2007
RE: Moppen topic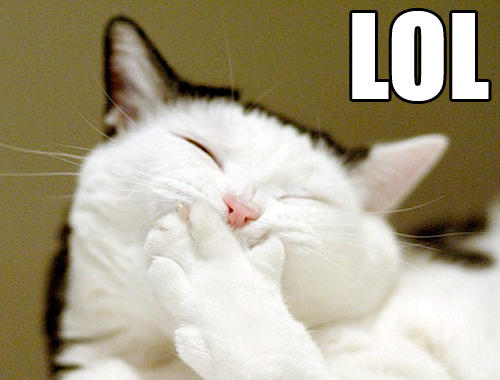 ---
11-09-2009, 06:23 PM
Corry
Proud granny of Julian-Tobias-Phileine



Posts: 24,342

Joined: Mar 2007
RE: Moppen topic
Een klein oud vrouwtje begeeft zich naar de buurtwinkel en legt 3 dozen kattenvoer in haar mandje,de duurste die ze maar kon vinden in de winkel .

Aan de kassa gekomen, zegt ze tegen de kassierster :

"Niets is me te duur voor mijn katjes."

De kassierster antwoordt:

"Het spijt me, maar ik mag u deze dozen kattenvoer niet verkopen ,

zonder dat u me een bewijs levert dat u wel degelijk een kat bezit.

Er zijn teveel ouderen van dagen die deze voeding in realiteit voor zichzelf kopen, daarom vraagt de directie altijd een bewijs bij aankoop."

Het dametje keert naar huis terug, neemt haar kat mee en toont ze aan de kassierster.

Deze is akkoord met de verkoop van het kattenvoer .

s' Anderendaags keert het vrouwtje terug om hondenvoer te kopen en nogmaals kiest ze er het duurste eten uit.

De kassierster herhaalt haar dezelfde toespraak,dat ze de koekjes niet mag verkopen zonder een bewijs dat de koper een hond heeft .

Gefrustreerd haalt het oude vrouwtje haar hond en toont hem aan de kassierster.

Deze heeft nu geen bezwaar meer en verkoopt de hondenkoekjes .

De volgende dag komt het dametje aandraven met een doos met een gat in het deksel.

Ze vraagt aan de kassierster om er haar vinger in te stoppen.

De kassierster weigert,"Nee, ik ben bang dat daar misschien wel een slang inzit!"

Het oude dametje stelt haar gerust en zegt dat er niets in de doos zit dat haar kan kwetsen.

Uiteindelijk stopt de kassierster haar vinger maar in de doos,

haalt hem er weer uit en bemerkt een verdachte geur ……….

Ze schreeuwt het uit :"Maar dat is stront wat u daar in die doos hebt ."

Waarop het oudje met haar mooiste glimlach antwoordt:

EN MAG IK NU 3 ROLLEN TOILETPAPIER ??????????
---
User(s) browsing this thread: 1 Guest(s)